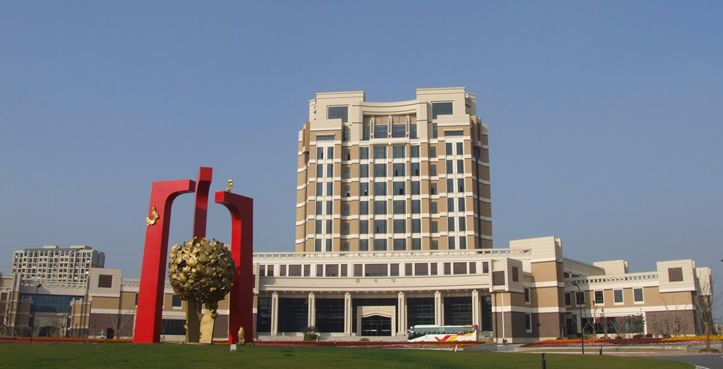 ::.History Evolution
Shanghai Institute of Technology was established by merging the three national demonstrating applied science colleges: Shanghai Light Industry College, Shanghai College of Metallurgy, Shanghai College of Chemical Technology, as well as Shanghai Research Institute of Fragrance and Flavor Industry that belongs to the former Chinese Ministry of Light Industries. During the past 60 years, Shanghai Institute of Technology has developed itself into a full time institution of higher learning characterized with multi-disciplinary focusing on the applied science technologies. By emphasizing on both "application-oriented" and "capacity construction" strategies, Shanghai Institute of Technology is building up itself into an applied science tertiary institution. In 2007, SIT has passed the Undergraduate Teaching Evaluation conducted by the Ministry of Education. In October 2010, Fengxian new campus was completed, covering the total area of 1500 mu, where Shanghai Institute of Technology has moved the main teaching and administration bodies to. During recent years, Shanghai Institute of Technology has developed in leaps and bounds in both its capacities and capital constructions. It has also won the prizes of Shanghai Model Units for consecutive six years.
::.Capital Construction and Scale
Shanghai Institute of Technology owns two campuses – Fengxian new campus and downtown campus, covering the total area of 1106870.2 square meters, and the total school construction area is 649309.25 square meters. Xuhui downtown campus is located in Caohejing Hi-tech Park, while Fengxian new campus is located in Fengxian Bay area. Shanghai Institute of Technology is administrated through the two-tier management system as Institute level and School level. Currently, Shanghai Institute of Technology consists of 19 schools (departments), School of Material Science and Engineering, School of Mechanical Engineering, School of Electrical and Electronic Engineering, School of Computer Science and Information Engineering, School of Urban Construction and Safety Engineering, School of Chemical and Environmental Engineering, School of Perfume and Aroma Engineering, School of Art and Design, School of Economics and Management, School of Foreign Languages, School of Humanities, School of Ecological Technology and Engineering, School of Science, School of Rail Transportation, School of Innovative Engineering, School of Vocational Education, School of Continuing Education and Department of Physical Education. By focusing on undergraduate education, Shanghai Institute of Technology is actively developing postgraduate education in the areas of technology science and engineering as well as international education to overseas students. The total enrollment is 18148, of them, undergraduates are 15640, and postgraduates are 861. The value of teaching and research instruments and equipments totaled up to 259 million Yuan, the library collection of both hardcopy and electronic books is 1.46 million and 673,900 volumes respectively, and the total number of network databases is 37. Shanghai Institute of Technology has formed a complete computer network service system by constructing a 3-layer campus network structure, through which a total number of 570 video programs can be provided.
::.Disciplines and Strategy
By emphasizing on the disciplines construction, Shanghai Institute of Technology has formulated a reasonable discipline structure in order to actively adapt to the needs of the social economy development, thus the strategy as "building SIT as a cradle of first class engineers, as a high level, applied science technological institute equipped with multi-disciplines" has been established. SIT has now owned 7 major discipline complexes as engineering, science, management, economics, humanities, laws and agriculture, of them, engineering, science and management are the three main disciplines, covering 17 first class programs. Altogether 44 undergraduate programs, 4 "first class" postgraduate programs, 19 second class postgraduate programs and 1 major postgraduate program (chemical engineering) are offered. A three-level key disciplinary structure as "Shanghai Municipality, Shanghai Municipal Education Commission, Shanghai Institute of Technology", characterized with metropolis-orientated applied technology research and applied science talents cultivation has been formulated, covering the major fields of modern manufacturing industry and service industry in Shanghai. SIT owns 1 national Quality Monitoring and Assessment Center, 3 ministerial Engineering Research Centers, 3 Municipal level key disciplines, 5 Municipal education commission level key disciplines, 1 Ministry of Education specialized major, 2 ministerial "Discipline Comprehensive Experiment" projects and 2 Shanghai university Advanced Special Development Programs.
::.Talents Cultivation and Characteristics
SIT aims to cultivate "advanced application-oriented frontline engineers with innovative spirit, problem-solving ability and international horizon" and has formulated its characteristics as "relying on industry, serve for enterprise, cultivating the first class applied talents of frontline engineers". By accumulating the experience of previous 50 years of running education, Shanghai Institute of Technology persist the idea of "emphasizing practice, relying on engineering, cultivating the students into qualified talents for the society". SIT also persist the principles of engagements of entrepreneurs in the teaching plans formulation, class teaching, thesis supervision as well as project designs etc, so as to integrate the engineering practice into the whole process of talents cultivation. SIT also learns experiences from its partner institutions of Germany and France and implement its innovative concepts of the cultivation of Excellent Engineers at the School of Engineering Innovation of SIT.Through its innovative education practices, students' interests for learning have been greatly improved. The students' employment rate reaches as high as 98.49%, and the quality of the graduates have been widely recognized by the society.
SIT owns 3 national "Excellent Engineers Cultivation Plan" undergraduate programs, 1 national engineering practice education center, 2 municipal demonstrating teaching centers, 1 national Boutique program, 15 municipal Boutique programs, 7 undergraduate education Highlands of Shanghai municipality, 221 students practice and education bases.
SIT now has a faculty of 1,734, and among them, 1,083 are professional teachers. 419 professional teachers have senior professional titles, which makes up 38.69 % of the total teaching staff. 113 staff members are full professors. 77.10% staff members have master's degree or above and 33.89% (367) hold doctor's degree. SIT has 20 supervisors for PhD students and 255 supervisors for master's students. SIT attaches great importance to the cultivation of teachers, while ushering in excellent teachers. Boasting strong and well-structured teaching personnel, SIT has established a high-level teaching and academic research faculty with a group of discipline leaders and key teachers.
::.Scientific Research and Application
In recent years, SIT focuses on the improvement of its scientific research, and by adhering to its own characters and the social needs, SIT puts emphasis on the research and development of applied technology. SIT holds the principle that "Aiming at Shanghai Region, facing the Yangtze River Delta and radiating the whole country, SIT endeavors to serve local economy and that of small & medium sized cities". SIT has been working actively at constructing a multi-disciplinary platform for the collaboration between "production, learning and research" so as to provide a better service to the society. In the past five years, SIT has signed agreements with cities and counties of Zhejiang Province, Anhui Province and Jiangsu Province to carry out full-scale cooperation and has provided technology development and services to over 300 enterprises in these provinces. SIT strengthens its relation and cooperation with industries, research institutions and major enterprises, and has signed long-term cooperation agreement with China National Pharmaceutical Group Corp, Baosteel Group Corp, Shanghai Huayi (Group) Company, Shanghai Electric Group Company Limited, Sinopec Shanghai Petrochemical Company Limited, Shanghai Research Institute of Chemical Industry, Shanghai Institute of Pharmaceutical Research and others to provide innovative technological support to the development of regional economy.
With applied technological scientific research as its orientation, SIT carries out fundamental application researches based on the reality of engineering and technology development. The scientific research budget had soared from ¥3 million at the beginning of the merging to ¥14.3 million in 2011. Over the last 5 years, SIT has signed 786 cooperation agreements with many enterprises, which have provided SIT with scientific funds close to ¥200 million. SIT has also taken an active part in key projects of Shanghai and national strategy projects as well. All these efforts have contributed to the development of social economy as well as to the improvement of SIT teachers' research capacity and the quality of education.
::.International cooperation and Exchange
SIT has established extensive cooperation and exchange relationship with foreign universities. Academic exchange and staff training programs have been carried out with high education institutions, research institutions and companies in the following countries and regions: America, Canada, Australia, New Zealand, Germany and Britain as well as from Hong Kong, Taiwan and Macau. 91 agreements and memos have been signed with partners abroad. 4 joint programs at bachelor's level have been conducted in the fields of Marketing, Mechanical Design, Manufacture & Automation, Electrical Engineering & Automation and Applied Chemistry. SIT actively participates in student and staff exchange programs. In recent five years, over 100 teachers have been sent abroad to carry out joint research and academic exchange programs. 274 students have been selected to study abroad. At the same time, SIT started to recruit international students in 2007. Till now, about 230 foreign students from 17 countries have studied in SIT. SIT also invites foreign teachers, famous foreign experts and scholars to participate in teaching and research.