1. Degree Program
Bachelor
Chinese Language and Culture Education
This is a four-year undergraduate major, subject to extravert Chinese Language Education. It recruits overseas students, tending to foster high quality overseas Chinese teachers and backbones of overseas Chinese clubs and societies. It helps to enhance the development of Chinese language and cultures in foreign countries. Special scholarship is available to students interested in this major.

I. Curriculum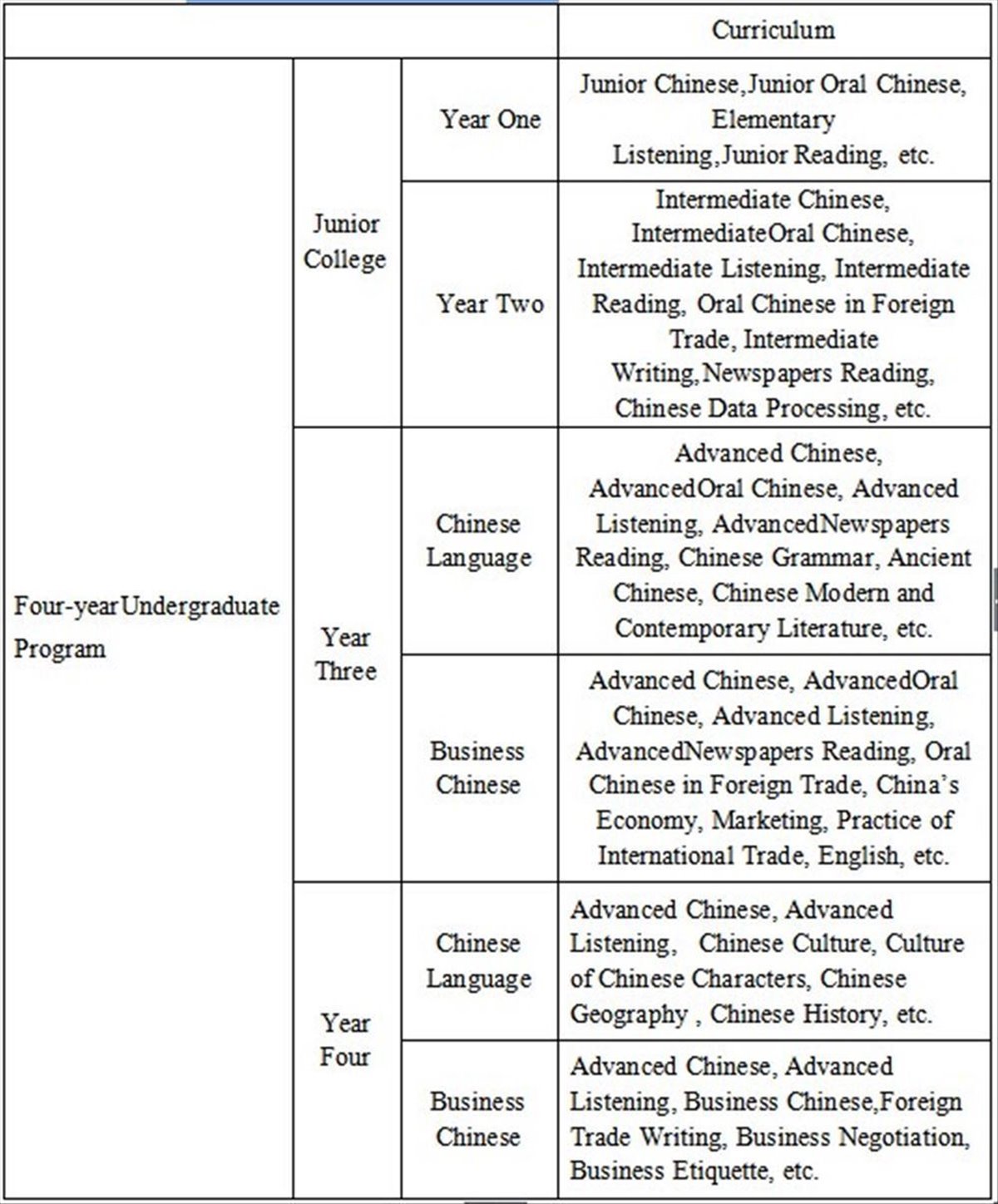 Notes:
① Students with a proper foundation on the Chinese language are allowed to join a classat any time of a program.
② If a student is able to complete all the required credits of an undergraduate program or a junior college program, s/he will be granted a corresponding diploma. If a student is able to pass the thesis debate, s/he will be granted a bachelor's degree.
③ Courses such as Chinese Painting, Chinese Calligraphy, Chinese Martial Arts, Music and Dance are optional.
2. Non-degree Programs
Non-diploma Chinese Refresher Classes:
The collegre offer to overseas Chinese or foreign students six-month and 12-month Chinese classes in Business Chinese and Tourism Chinese, with Elementary, Intermediate and Advanced classes respectively. In order to satisfy different needs, students are assigned to different classes after testing and learn not only basic language skills also major knowledge.

Applicants should have junior high school diploma or above and be over fourteen, with a valid passport.
Elementary Class (Part I, Part II):

The courses we mainly offer are: Junior Chinese, Junior Oral Chinese, Junior Listening, and Junior Reading. These courses enable students to acquire pronunciation skills and knowledge, and basic listening, speaking, reading and writing skills, and satisfy their needs of daily life, study and social communication.
Intermediate Class (Part I, Part II):

We offer Intermediate Chinese, Intermediate Oral Chinese, Intermediate Listening, Intermediate Reading, and Basic Writing. These courses enable students to acquire good listening, speaking, reading and writing skills and satisfy their linguistic needs of bachelor's study in Chinese universities.
Advanced Class (Part I, Part II):

We offer Advanced Chinese, Advanced Oral Chinese, Advanced Listening, and Advanced Newspaper Reading. These courses enable students to understand Chinese broadcast and TV programs, Chinese newspapers and magazines, and have the language ability to take up the study of bachelor's degree or above, or do tourist jobs and foreign trade, and involve themselves into social communicative activities.
Course Duration:
The length of all the classes is one year, with two parts (six months each). You can choose to study for half a year, one year or even longer on a proficiency basis, or start from any class after testing. Students who successfully complete all the required courses will be granted an equivalent certificate.
Short-term Training
The Training Department specially opens training classes for overseas Chinese teachers, short-term Chinese cram classes, students' summer/winter camp and Chinese cultures seminars. It offers all-round services in study, accommodation and boarding. It also organizes students to visit scenic attractions in Xiamen and Quanzhou on a voluntary basis, and arranges long-distance journeys, if needed. The charge for short-term training class is RMB 350 per day; all-the-year-round admission; group enrollment only.

Contact: Ms. Lin Tel/Fax: +86-592-6068003 Email: pxb@hwmail.hqu.edu.cn
I. Teacher Training Class
Curriculum: Basic Second Language Teaching Theory, Chinese Teaching Method, Multi-media Application in Chinese Teaching, Text Compiling, Chinese Cultures, Language Teaching Presentation and Practice. Special training is also offered if needed.
Enrollment: overseas Chinese teachers.
Training Target: to improve students' Chinese language teaching ability and cultural skills.
II. Winter/Summer Camp
Curriculum: It offers Chinese language and culture classes of different levels according to students' actual Chinese proficiency.
Enrollment: overseas Chinese offsprings; foreign students.
Training Target: It aims at carrying forward Chinese language and culture knowledge, improving students' Chinese communicative competence and learning about Chinese society.
III. Summer Chinese Class (45 Days)
We offer small classes of different levels—Elementary, Intermediate and Advanced, providing real life situation in which students receive intensive training for speaking to promote their actual language application abilities.
College-prep Education
College-prep Education is specially opened to students from Hong Kong, Macao, Taiwan, and foreign countries for undergraduate study. Its mission is to familiarize overseas students with studying and living environment in China, enhance the Chinese language, and make full preparations for undergraduate study.